The GXP series of color-screen IP phones offers 3, 4 and 6 line IP phones with a suite of advanced VoIP calling features to maximize enterprise productivity and communication. Features such as HD audio support, a full color-screen operating system, various BLF/speed dial/extension module options and built-in Bluetooth offers users a powerful desktop experience.
The GXP2200EXT is an LCD extension module that adds up to 160 dual-colored speed dial/BLF keys to the GXP2140 and GXV3240. This easy-to-setup extension module is ideal for receptionists, executives and any who handles large call volume.
The GXP1600 series of IP phones are designed specifically for small business and home office use. These small business IP phones offer a user-friendly calling experience that incorporates a variety of advanced VoIP calling features.
Mobilize a VoIP Network to create a productive and flexible communications environment. The DP750 and DP720 allows users to be free from their desks and move through any business, warehouse, retail store or residential home without restrictions.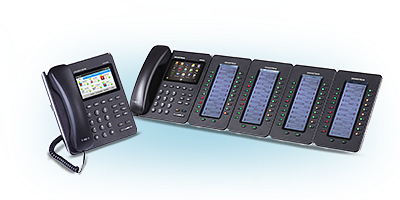 The GXP1700 series of Mid-Range IP Phones was designed for growing businesses. These stylish phones have mid-range features and capacity that your business can grow with and depend with the competitive price that you need now. The GXP1700 series offers a great addition to any desktop thanks to its sleek, high-end design coupled with a variety of mid-range productivity tools that keep users efficient and productive.
Grandstream Wave is a FREE softphone application that allows users to make and receive voice calls through up to 6 different business or residential SIP accounts on any Android™ device from anywhere in the world.
The GRP2600 series are carrier-grade IP phones designed for mass deployment. This series of next-generation IP phones features a sleek new design, a reimagined user experience, unified firmware and powerful feature options. Designed for enterprises, service providers and other high-volume markets, the GRP series offers a powerful, easy-to-use and easy-to-deploy voice platform with next-gen features for high-end users.
The GHP Series of hotel phones feature easy-to-use IP phones for any hotel room that can be programmed and customised based on the needs of hotels and their guests. The GHP Series is supported by Grandstream's Device Management System (GDMS), which provides a centralised interface to configure, provision, manage and monitor deployments of Grandstream endpoints.