The Grandstream IP voice & video products offer the best price-performance point in the industry. All of our products and solutions are designed to fully leverage the benefits of VoIP broadband networks. Each portfolio is based on SIP standard and is feature rich – supporting both traditional and advanced features - support a broad range of voice codecs, and are easy to manage through web-based GUI interfaces.
The GVC3200 is a ground-breaking solution that offers small businesses a revolutionary video conferencing system with unprecedented flexibility and the power of support for multiple popular video conferencing protocols and platforms right out of the box.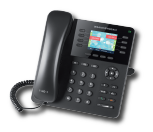 Grandstream designs and manufactures a wide-range of IP phones in order to offer a model best suited for every business and user type - from small business IP phones to Enterprise IP phones to DECT Cordless IP phones, Grandstream IP Phones are trusted and deployed by some of the largest enterprises and service providers in the world.
The GXV3200 series of IP Video Phones for Android ™ are 6-line IP phones that offer a powerful multimedia experience including multi-platform video calling and full access to all apps in the Google Play Store – including popular business apps. These innovative devices extend the power of video communications to the desktop while offering tablet-like functionality and web access.
Grandstream designs and manufactures a complete line of IP video surveillance solutions, including a range of IP camera models, Network Video Recorders (NVRs) free Video Management Software and IP video encoders/decoders, Grandstream provides everything needed for a video surveillance solution and can proactively alert users of security events in addition to live monitoring and recording of all video surveillance feeds..
Whether you are networking a whole office, multiple offices – or looking to extend IP connections to analog devices, Grandstream has the Gateway or ATA that you need. Grandstream's Gateways and ATAs are trusted by some of the largest service providers in the world.
Grandstream's UCM series of IP PBXs offer an extensive set of unified communication features in easy-to-manage on premise IP PBXs with no licensing fees, upgrade fees or costs per feature. The UCM6100 series is designed for small and medium businesses as it supports up to 500 users and the UCM6510 is ideal for small and medium enterprises as it supports up to 2000 users.
Grandstream's GWN series of Networking Solutions offer powerful and secure networks with wide coverage range that feature industry-leading setup and management thanks to embedded provisioning and management controllers. This series offers both WiFi Access Points and Gigabit Routers in order to offer a complete wired and WiFi solution.